Car in need of a tow down San Pedro Creek in San Antonio
Turns out even cars get thirsty sometimes or what else could this particular car have been thinking when taking a dive into
San Pedro Creek San Antonio
? Mission Wrecker Heavy Duty Towing received a call from
San Antonio Police Department
(SAPD) to recover this unlucky vehicle that had apparently decided to take a drink from the creek before falling into the water. Yep, this car was in need of a tow, alright, and that's just where Mission Wrecker's towing team comes in. The San Antonio team quickly made their way to the creek with one of their 1-ton towing trucks. It took approximately 20 minutes to get to the scene of the event. The troubled car had rolled into the creek from its parking space but luckily, with the help of Mission Wrecker Heavy Duty Towing, the vehicle got winched out the water fast, presumably forever cured of his urge to go take a bath or take a drink from any creek or river ever again. The towing expert used a tow hook and towing cables to pull the car up and out of the water. After repositioning the tow truck, the car got to take rest on the truck's flatbed with the front and rear tires locked. Any doctor in the house? Not to worry, the car survived and nobody got hurt! Great rescue job,
Mission Wrecker San Antonio!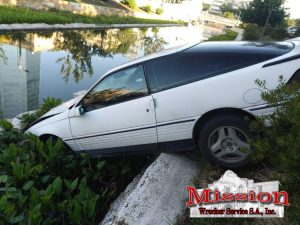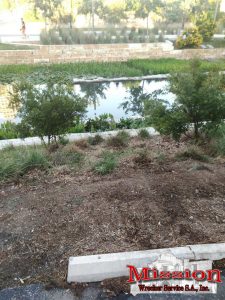 Details: car drives into San Pedro Creek in San Antonio and needs a tow out the water by Mission Wrecker Heavy Duty Towing
Mission Wrecker Heavey Duty Towing San Antonio received a call from SAPD (San Antonio Police Department) to winch a car out of San Pedro Creek as it rolled into the water from the parking lot. From their San Antonio Location,
the towing team over at Mission Wrecker drove down l35 and onto l10 until they arrived at an exit to the apartment next to San Pedro Creek
. It is a ride of 14,2 miles and it took approximately 20 minutes to get to the scene of the event and start the rescue. The Mission Wrecker tow truck expert grabbed the tow hook and towing cables and released the cable hook so he could walk out to the car in the water of the creek. The tow expert waded out into the creek and attached the cable hook to the underbelly of the car. The towing guy then winched the car out of the water and up the hill. He repositioned the truck and then lowered the car onto the flatbed of the tow truck. The front and rear tires were locked and the car was taken away to recover from the shock and all. Need a tow? You can be sure your vehicle is in good hands at Mission Wrecker. Well done, guys!