Heavy Towing in San Antonio: Saves Time and Money
Sometimes providing heavy towing in San Antonio is just a matter of careful and clear thinking. This week just by being smart, we prevented a gravel hauler from a serious rollover.  The gravel hauler was at a construction culvert
 in Boerne, TX close to I-10 and Highway 46.  The hauler was leaning over, nearly ready to rollover. 
First, we had to prevent the rollover. We positioned our two heavy wreckers to slide his truck trailer and 84k lb load back onto the road. We strapped it up and secured it from falling.  That was just the first step. It was a bit tricky and took less than an hour. 
Now, the truck was leaning far to the left so far that the fuel had collected on the driver side fuel tank. This meant that the fuel feed on the passenger side wasn't getting any diesel.   Without fuel, the truck couldn't power itself and get itself out of trouble. So, we
 primed the engine.   We took a diesel transfer pump and moved fuel from one side to the other side.  The engine rolled to life. A driver got in the semi and drove it forward with the straps connected to the two heavy wreckers, so it wouldn't fall over.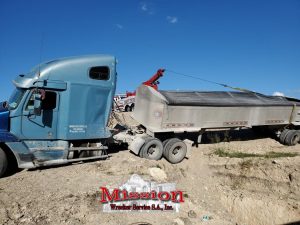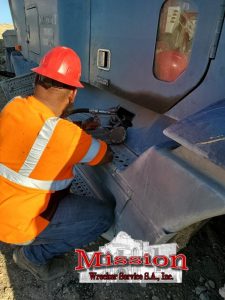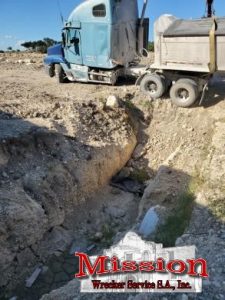 Details Heavy Towing San Antonio in Recovery Prevention
Mission Wrecker's heavy towing San Antonio dispatch service answered a call. A gravel hauler was in jeopardy of rolling over at a construction site in Boerne, TX.  Our client wanted to avoid the expense, the potential vehicle damage, and the time lost of a complete rollover. Mission Wrecker sent out a team to help out. We pride ourselves in providing creative heavy towing San Antonio recovery methods.  First, we needed to move the hauler a bit. We used two of our heavy wreckers to slide the trailer and cab back onto the road. The total load was over 84k pounds.  Check out the straps in the photo.
Now, the gravel hauler was supported while leaning over. We knew it wouldn't fall. The fuel wasn't being fed into the diesel engine and the engine wouldn't fire. A diesel engine without fuel isn't going anywhere. The supervisor walked over to his wrecker that he had brought to the scene. He pulled out a diesel transfer pump. He took diesel fuel from the passenger side tank. He moved that fuel to the passenger side tank that was bone dry.   The supervisor also primed the engine and delivered a quick shot of starting fluid. The heavy towing near San Antonio was completed successfully. The Mission Wrecker supervisor watched the gravel hauler drive away. The mission wrecker team drove back to the office.
The above marketing copy and photo images are not an accurate account of the facts of this tow or recovery. The marketing copy and photo images are a marketing description created for marketing purposes only and do not replace an actual detailed, legal description accompanied by verified images that serve as testimony of the actual events that occurred during this tow or recovery.